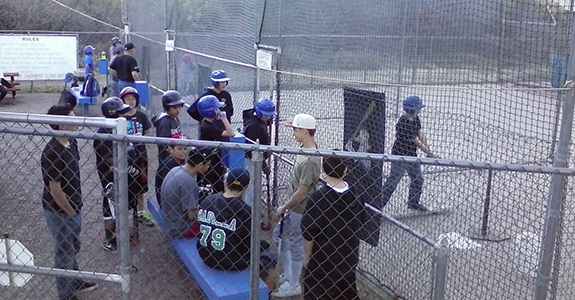 Gila County RV Park & Batting Range offers full-service batting cages for recreational use and team training. Our outdoor batting cages in Gila County, AZ offer the perfect place to allow kids to get outside and enjoy the season, getting exercise and improving their batting skills. With three cages at various speeds, a concession stand and picnic area, we provide something for everyone.
We also offer a picturesque RV park to accommodate guests as they are traveling along the "Bicycle Path." Within walking distance of inviting attractions in Globe, this is an ideal stop for RV travelers.
Check out the features of each of our recreation areas:
Batting Cages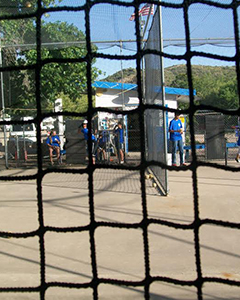 Cages: Three batting cages at three different speeds offer slow pitch softball, little league speeds (up to 50 MPH) and high school speeds (up to 70 MPH.) Guests are welcome to bring their own equipment.
Prices: Visitors can use an outdoor batting cage in Gila County, AZ with our token system or by timed rental. Two tokens provide 10 pitches. These cost $1 for 2 tokens. Cages are available for rent at $20 for 30 minutes or 1 hour for $35.
Discounts: We offer special pricing for coaches. Bring your team or group to receive a discounted rate. Rent the cage for 1 hour at $30.
Birthday parties: We offer three exciting birthday packages for the baseball lover in your family. Reservations are required two weeks in advance.

Excellent: $80 package for 10 people ($2 for each additional person)

Two cages for one hour, or 30 minutes "free for all" and 30 minutes to keep score – High point wins a prize
Decorated baseball cake (guests provide candles) – Find hidden penny and win a prize
1 scoop of vanilla ice cream or a soda
Paper plates, napkins, table service, table cover
1 helium-filled balloon for birthday celebrant
Nature hike through "bat cave"
Party favor for each guest
Time to eat and open gifts

Awesome: $120 package for 10 people ($3 for each additional person)

Everything included in Excellent Package plus:
Helium balloon for each person
Ice cream scoop and soda or root beer float
Gift for birthday celebrant
Goody bag for each person instead of favor

Ultimate: $150 package for 10 people ($3 for each additional person)

Everything included in Awesome package plus:
Piñata with toys and candy
Two door prizes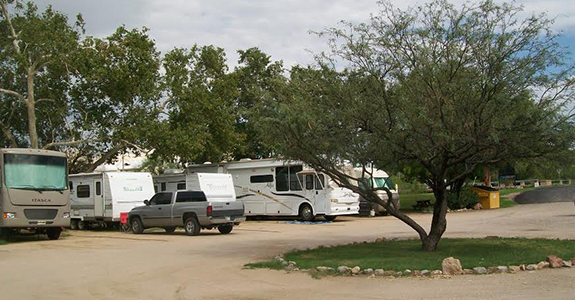 RV Park
Amenities: 43 full hook-up spots, six water and electric, and an area for tents. There are handicap accessible showers and restrooms on site but an outhouse is available for campers. Public dump stations are available for waste removal at $10 including fresh water. For the sustainable travelers, an electric car charging station is also available. The property also has free Wi-Fi for its visitors. The owner lives on-site, allowing easy access to resolve any issues.
Location: Gila County RV Park & Batting Range is centrally located in the Historic Downtown District of Globe. The Upper park is located at 130 W Ash on highway 60, and the lower park is located at 201 W Cottonwood. Both addresses are Gila County RV park, but are separated by the highway. It is walking distance from many shops and restaurants. The historic district also features many attractions and landmarks such as the Old Dominion Historic Mine park and Besh-Ba-Gowah. Our visitors enjoy these sites of Globe, the surrounding wildlife and beautiful natural scenery.
– Handicap shower with on-demand water heater
– Coin operated washer and dryer
– Free Wi-fi
– Concession stand with snacks and drinks
– Convenience store including brochures for businesses and events and a display case with gift items.
– Shaded picnic tables
– Landscaping with beautiful flowing plants plants such as dessert-willows and growing ash trees
– 43 full hook-up spots
– Dump site
– Short term Tent spaces available
What's not to love? Contact Gila County RV Park & Batting Range today at (928) 425-4653 for your next birthday party or recreational adventure.